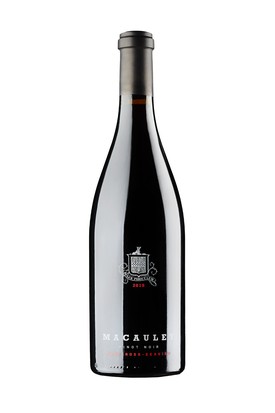 Elegant and poised, this wine is also darker than your average Pinot, pouring to a dense ruby color in the glass. Fragrances of cherry, dried currant, crushed flower and cooking spices appear on the bouquet, along with a trace of white pepper. Smooth and silky on the palate, the soft and expansive mouthfeel follows up with dense cherry and tart, red-fruit compote. This Pinot Noir shows a profoundly ripe character and a round style, while the 40% new Francois Frerres has exerted its oaky influence over 16 months of aging. Cellared correctly, this wine will be enjoyed to 2035 and beyond. Five barrels were produced.

Sourced from Kenefick Ranch, Calistoga, this Petite Sirah leaves a lasting impression. The color is profoundly dark, nearly jet black, and the nose leaves a hint as to the muscle that drives this wine: Black and jammy tones rise from the bouquet as this dark expression streaks the inside of the glass. On the palate, the entry is full-bodied and leads to notes of currant, plum, coffee and even a hint of burnt toast. The finish is long and lingering. Aged in 66% new French oak for 22 months, this is easily a 20-year keeper. Only three barrels were produced.
This 2019 vintage will be a classic. The old vine composition, from the 115-year-old plantings at Luvisi to those from 1900 hundred at Korte, combine for a deep and balanced Zinfandel. In keeping with the traditional style favored for California's grape, a regimen in 35% new American Oak adds aromatic and textural subtlety, offering notes of coconut, clove, and vanilla spices. The weighted fore and aft on the palate, and the central balance of this wine might be the most intriguing thing about this wine. The entry begins with depth and ripeness, unrelenting through the mid-palate, and builds to a crescendo at the back. The abundantly rich, dark fruit is very friendly in this full-bodied Zin, which has been aged for 16 months in 35% new Nadalie' Virginia Oak. Nineteen barrels were produced.