Vineyards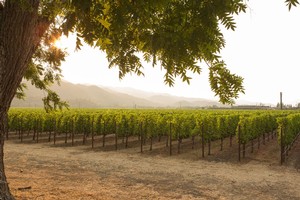 To Kalon
Originally planted in 1868 by pioneer viticulturalist Hamilton W. Crabb, the historic To Kalon Vineyard provides grapes for some of the Napa Valley's most sought after wines including Harlan Estate, Bacio Divino, Carter, Schrader, Paul Hobbs and Macauley.
To Kalon is Greek for "highest quality" or "greatest beauty." The vineyard sits at the base of the Mayacamas Mountain Range in the Oakville American Viticulture Area and is managed by the famed Andy Beckstoffer whose passion for growing the best grapes possible is legendary in the Napa Valley.
Our To Kalon Cabernet Sauvignon is a Clone 337 on 110 R rootstock and was planted in the early 1990's. The clay and loam alluvial soils of the appellation give the vines very deep roots with excellent drainage. The berries are small and the bunches are tight, making for a concentrated and flavorful wine of "highest quality" and "greatest beauty."

Star Vineyards
Originally a collaboration of the late Reg Oliver, Ric Forman and David Abreu, Star Vineyards grows in the heart of the Rutherford Appellation. Its location on the west side of Highway 29 in the middle of the Rutherford "Bench" means the vines get wonderful sun exposure and sink their roots into deep, well drained alluvial soils. This is one of the valley's most celebrated spots for grape growing.
The vines of Star Vineyard have produced consistently delightful wines, including Forman, El Molino and St. Clemente. We get our Cabernet Sauvignon from the most historic, most long running Star Vineyard block. A fifty-fifty split of Clone 7 and Martha's on 110 R stock, these vines took root under the dedicated care of Reg Oliver in 1991. They are now managed by David Abreu, one of the most sought after vineyard consultants in California
Known best for their inclusion (40%) in the 1974 Chateau Montelena that took home the top prize for Chardonnay in the hallowed "Judgement of Paris," Baciagalupi grapes are quite literally some of the fruit that put California wines on the map.

Other Vineyards of note we are working with:
Stagecoach Vineyard
Darms Lane
Oso Vineyard
Kennefick Ranch
Luvisi
Moss Creek
Korte Ranch